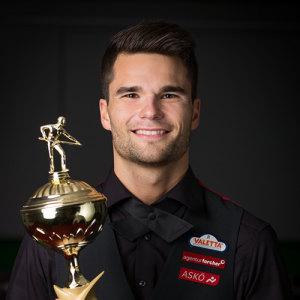 ABOUT ME
My Passion for Competition
Competition. Feel the tension. But stay relaxed. Concentration. And allow the flow to get into the ZONE and access peak performance. The feeling of being one with my cue, the balls and the table. But also: Turn on your brain when it gets tricky. The luck is not on your side. Facing the challenge.
My art. My way. My achievements.
5 x Austrian national champion
2 x winner of the team country comparison GER-SUI-AUT
10 x EBSA European Championship participants (multiple top 20 results)
5 x IBSF World Cup participants (several top 30 results)
1 x World Snooker Team Cup participant (with Andreas Ploner)
"Success? Is always paired with my openness to me, my happy place. Skill, passion, concentration. Yes, that's it. As well as the ease that makes me see opportunities. To take full advantage. "
My Way of Living
Snooker stands for everything that leads me to success in life. The art of skill, of training. Pure passion that helps overcome lows. Which supports me to come back stronger. The joy of flow, if it just works, when you are in the ZONE. When the skills are not exhausted, but in the flow with the current situation on the table. I live snooker. My Way of Living.